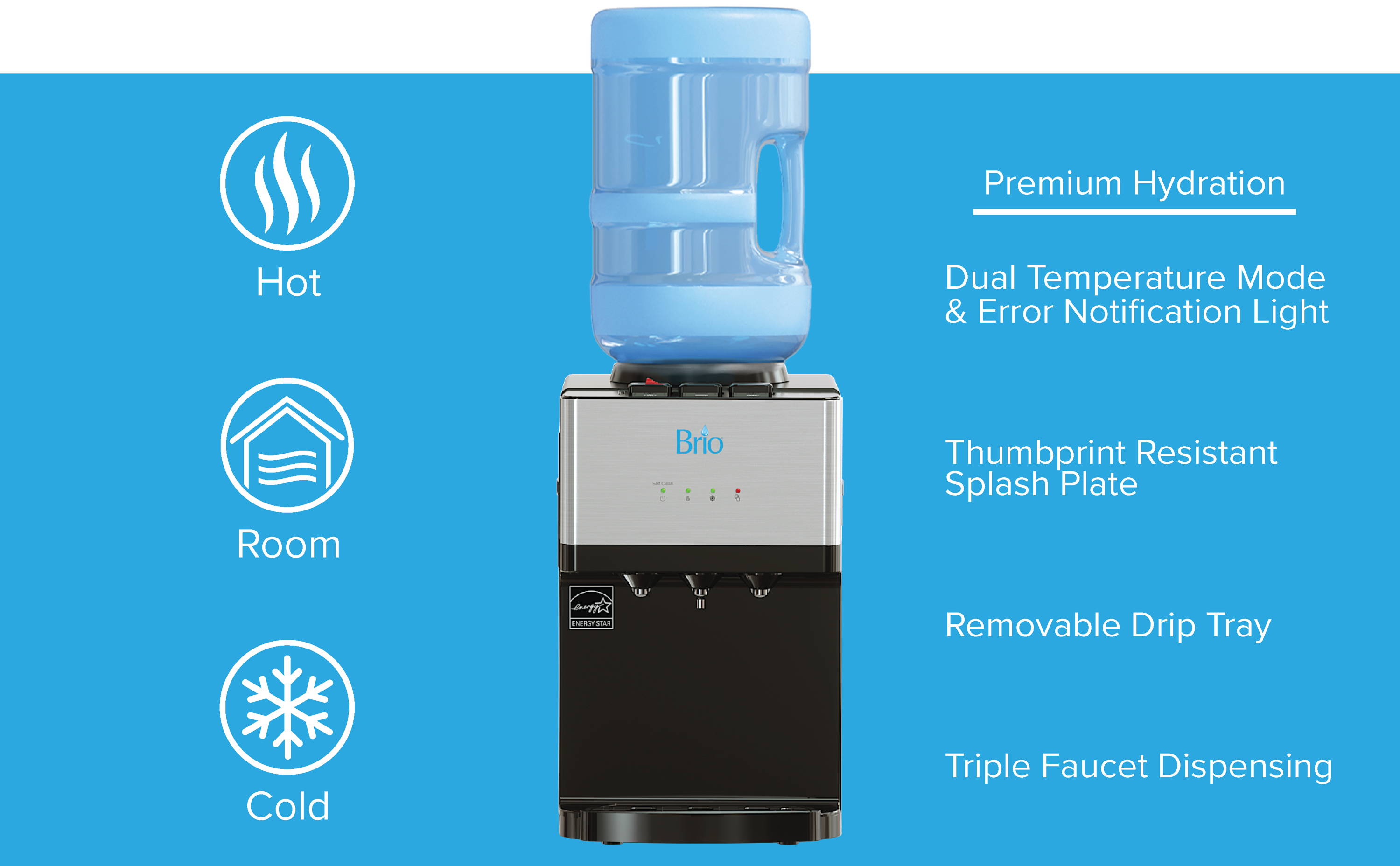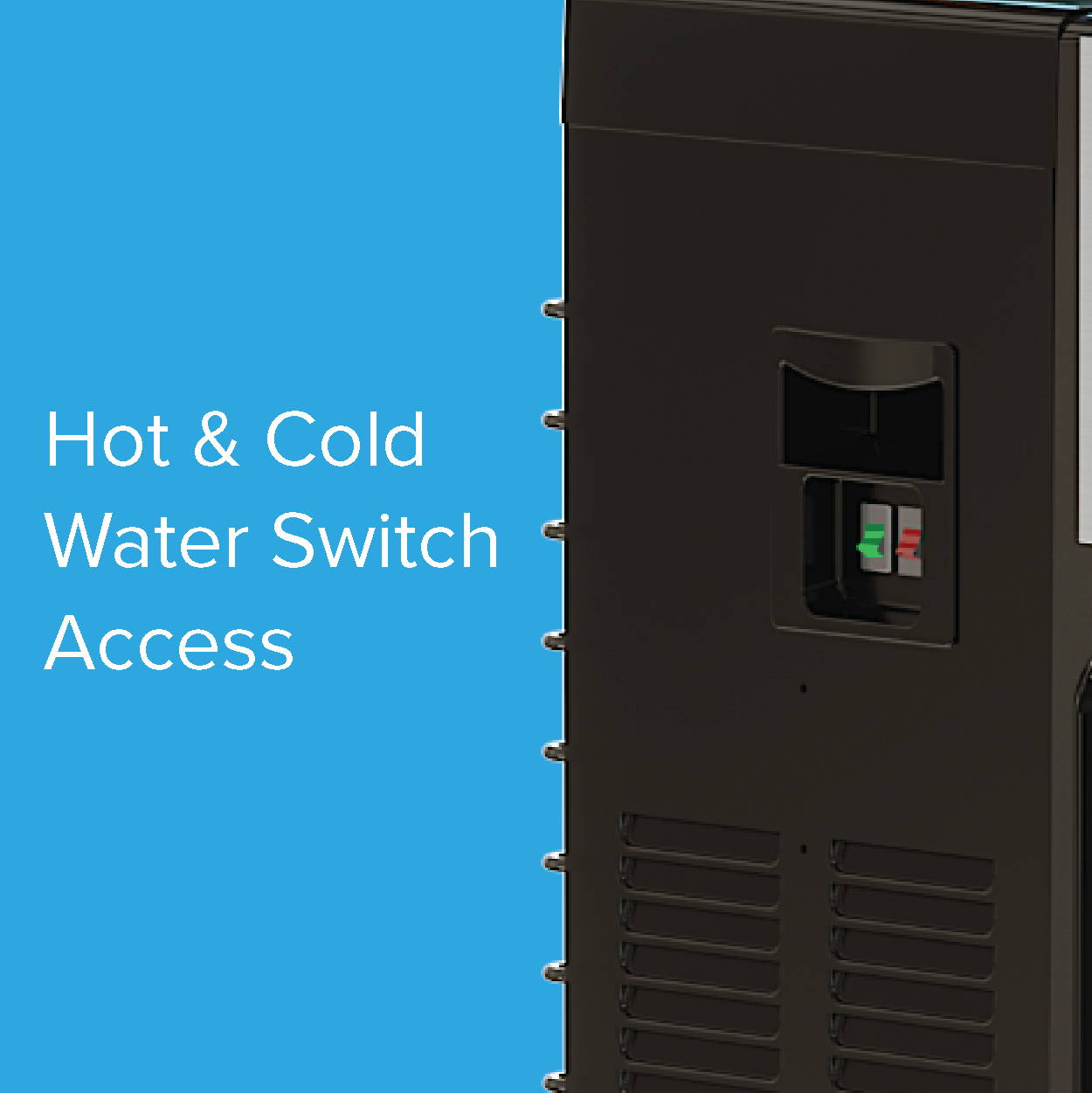 Hot & Cold Water Switch Access
The easy to access hot and cold switches allow for full control of when to heat and cool water. Designed to provide you with user-friendly features, the simple switches provide you with power-saving options right at your fingertips. Simply turn the switches on or off for your convenience. Created to provide you with customizable features that cater to all your hydration needs.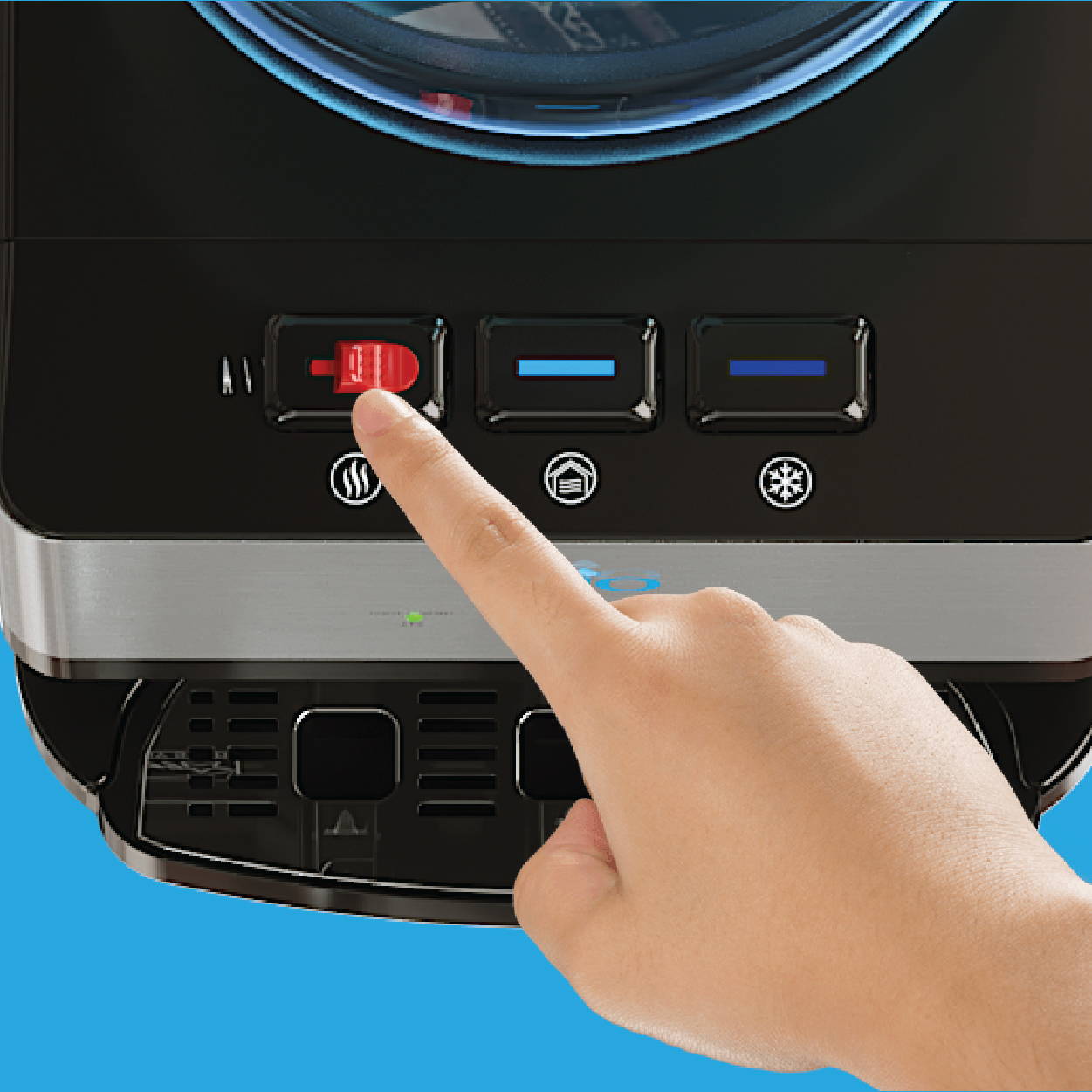 Child Lock
Brio keeps you and yours safe from any accidental pouring of hot water. The two-step dispensing prevents from any accidents from occurring, giving you peace of mind.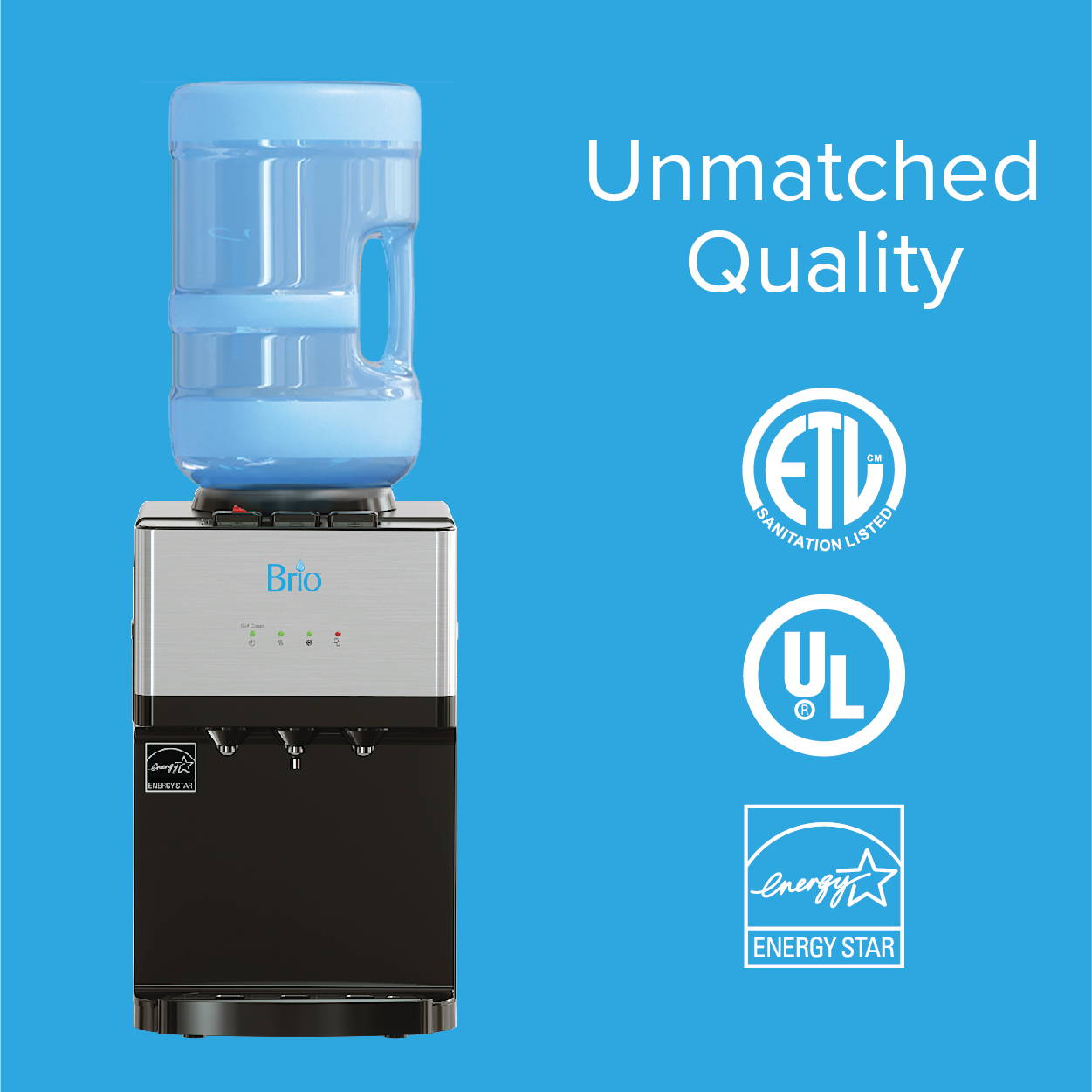 Unmatched Quality
The attractive sleek finish is made of superior quality 304 stainless steel, ensuring that you have only the finest cooler on the market. Rest assured that the self-cleaning ozone feature thoroughly cleans your cooler.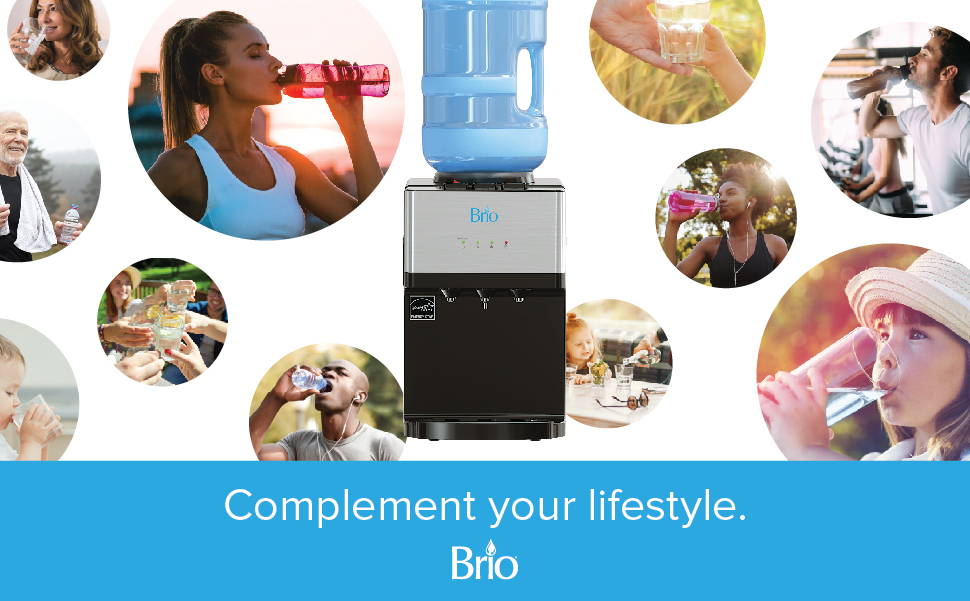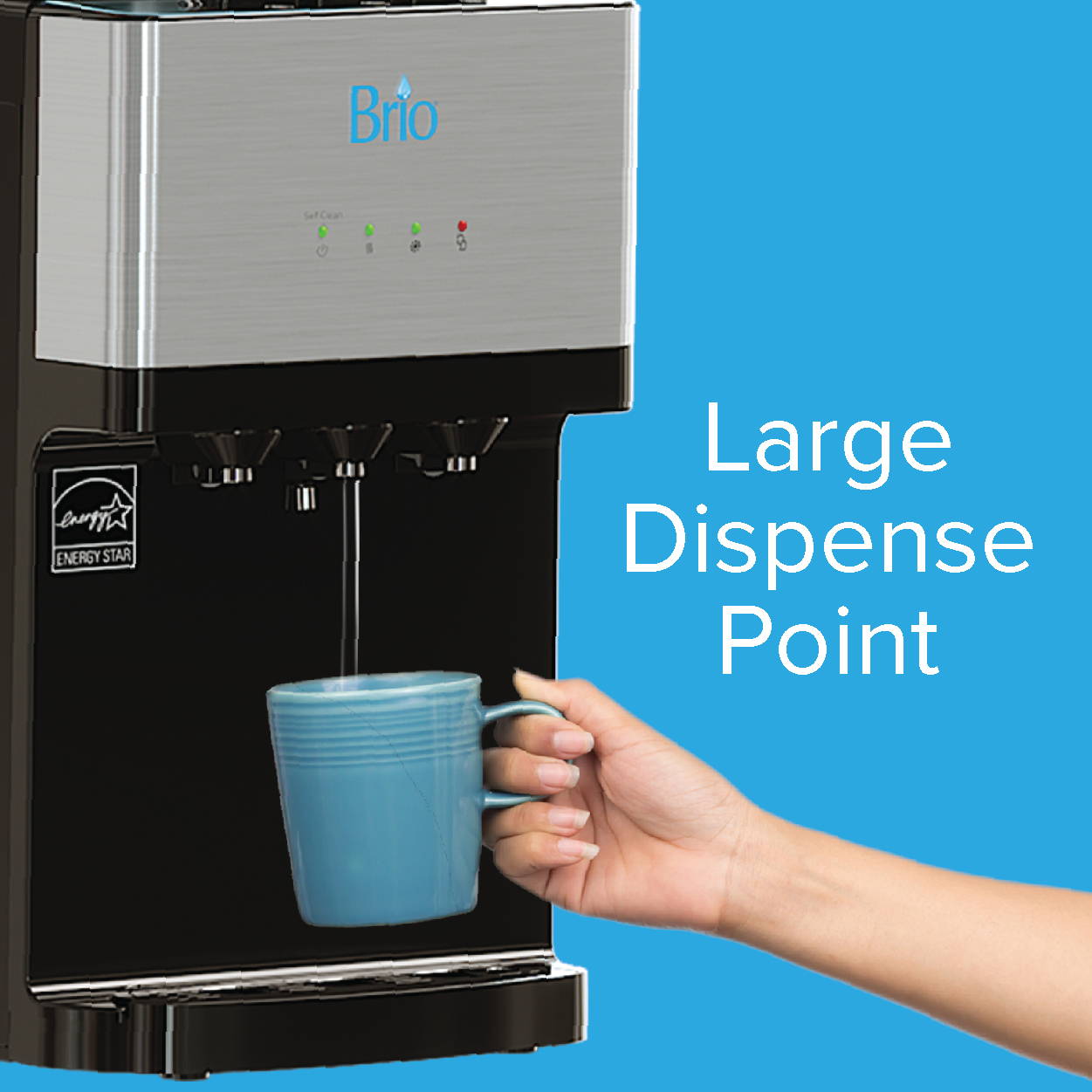 Large Dispense Point
Refill almost any sized cup or bottle hassle-free. The large access point allows for easy pouring, so don't struggle with.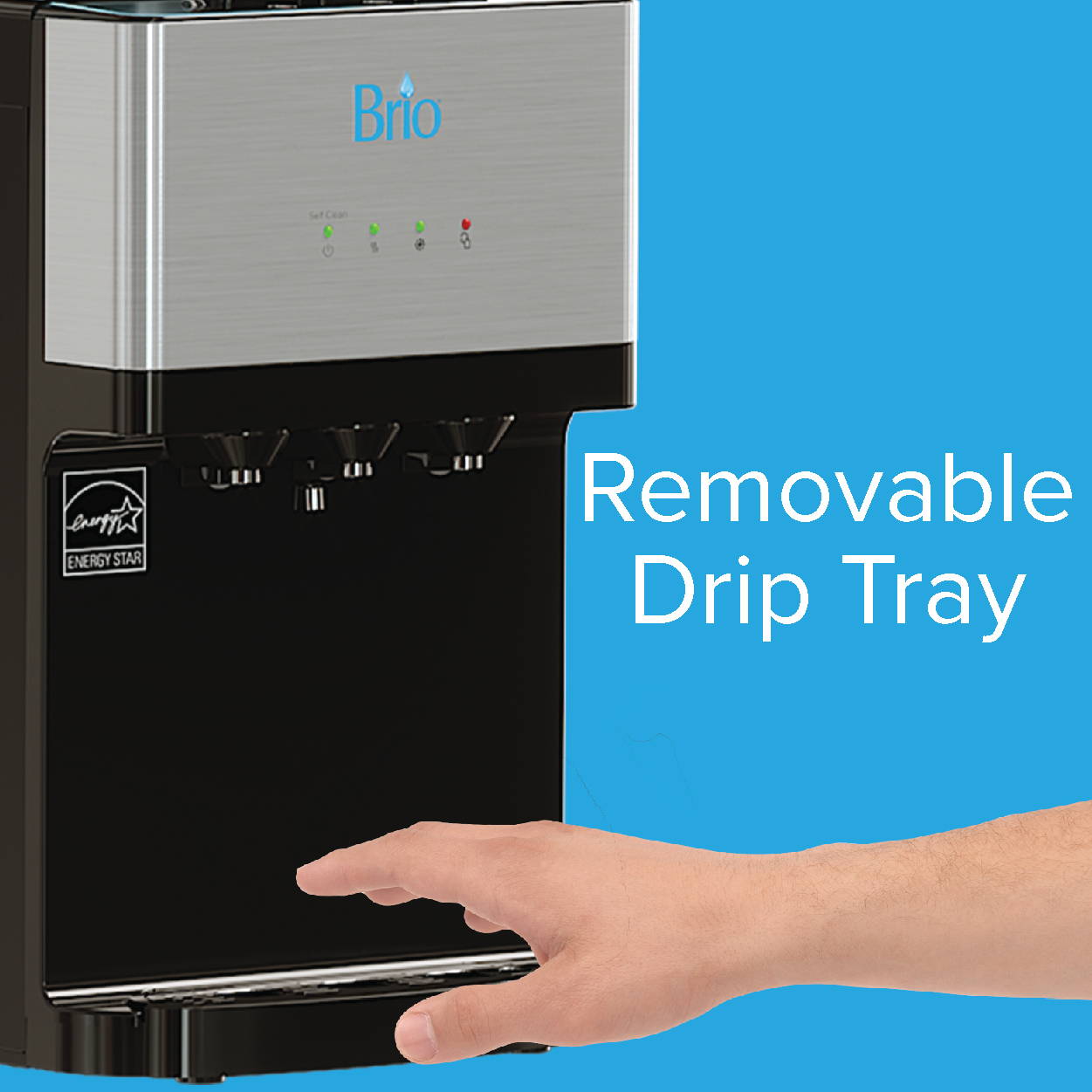 Removable Drip Tray
If you have owned a water dispenser before, you know how easy it is for the last drop of water to fall out of the tap after you've removed your glass. This Brio water cooler comes equipped with an anti-rust BPA-Free drip tray, which allows you to keep your drip tray sanitary. The removable drip tray means an easy and quick clean up!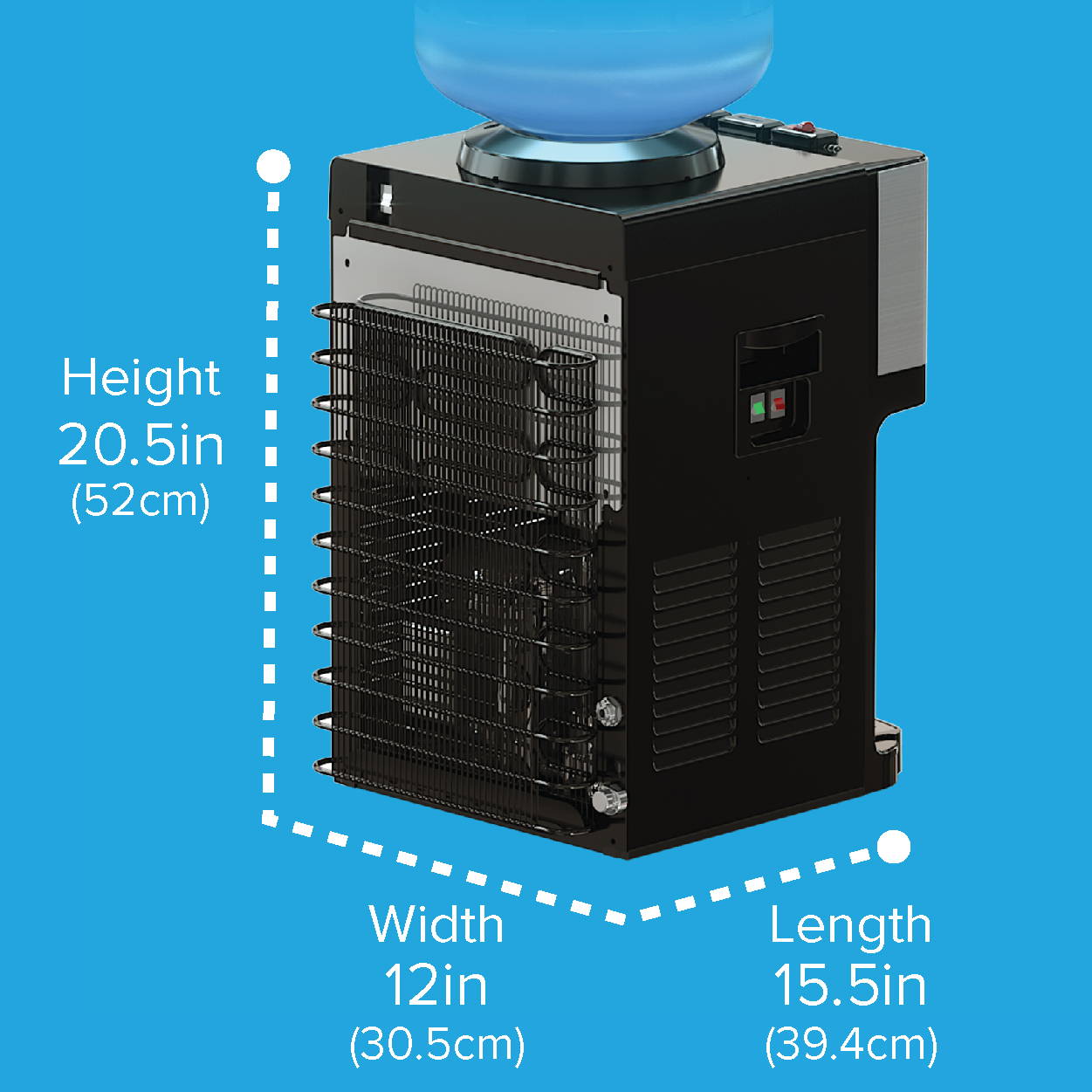 Durable and Compact
The stylish design is built to fit in most compact locations, so easily place it at home, office or garage. Durably made, the modern finish to the unit provides a sleek style while withstanding the test of time.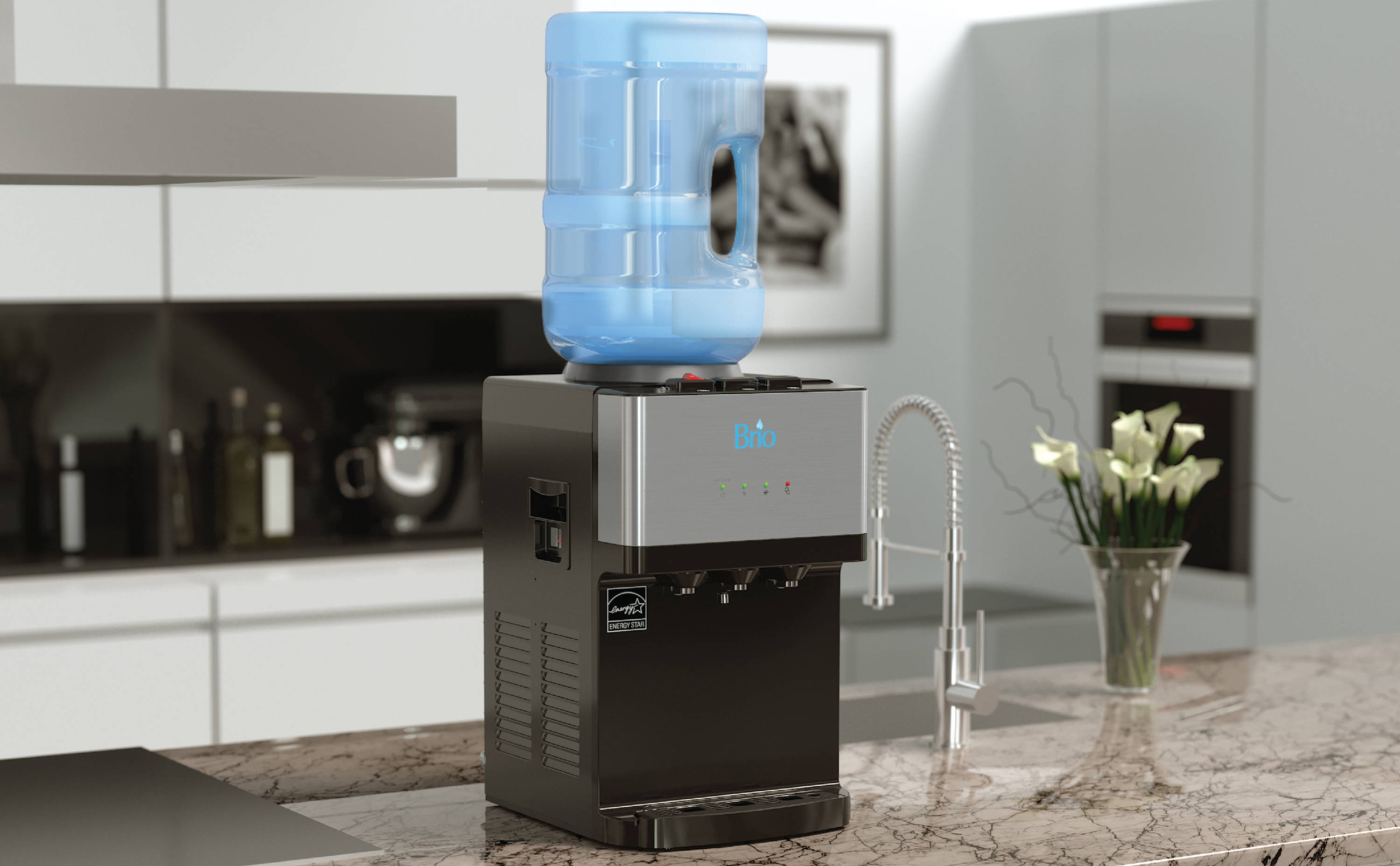 The Best Trio In Filtration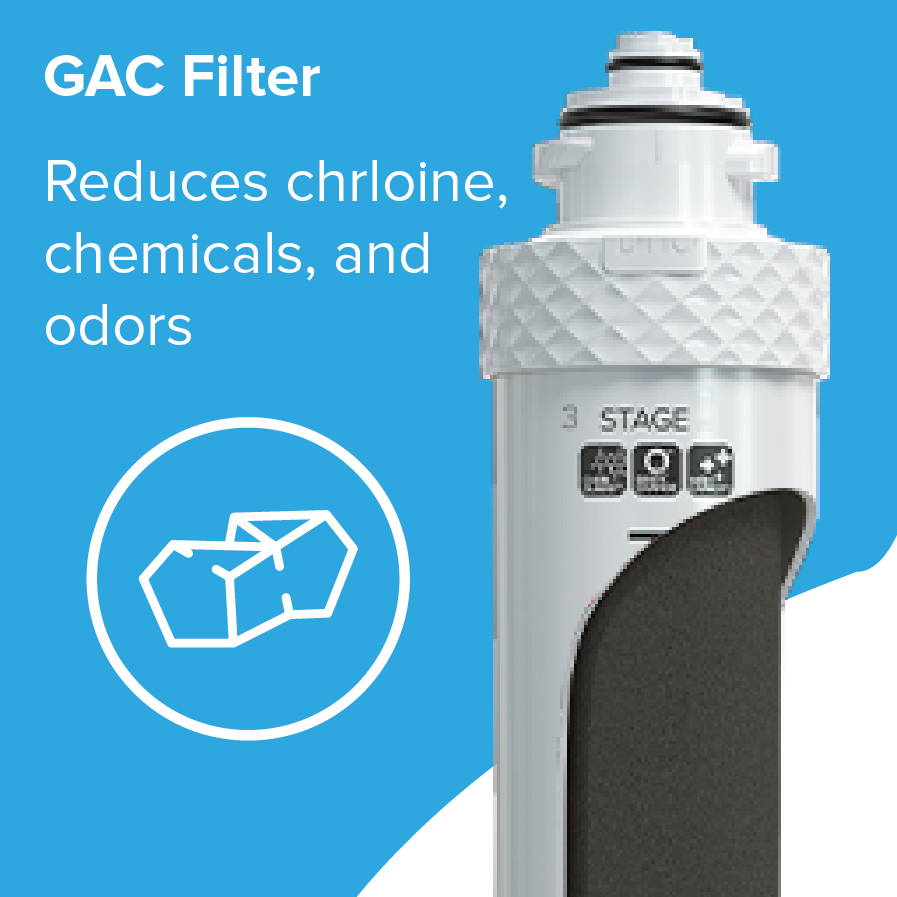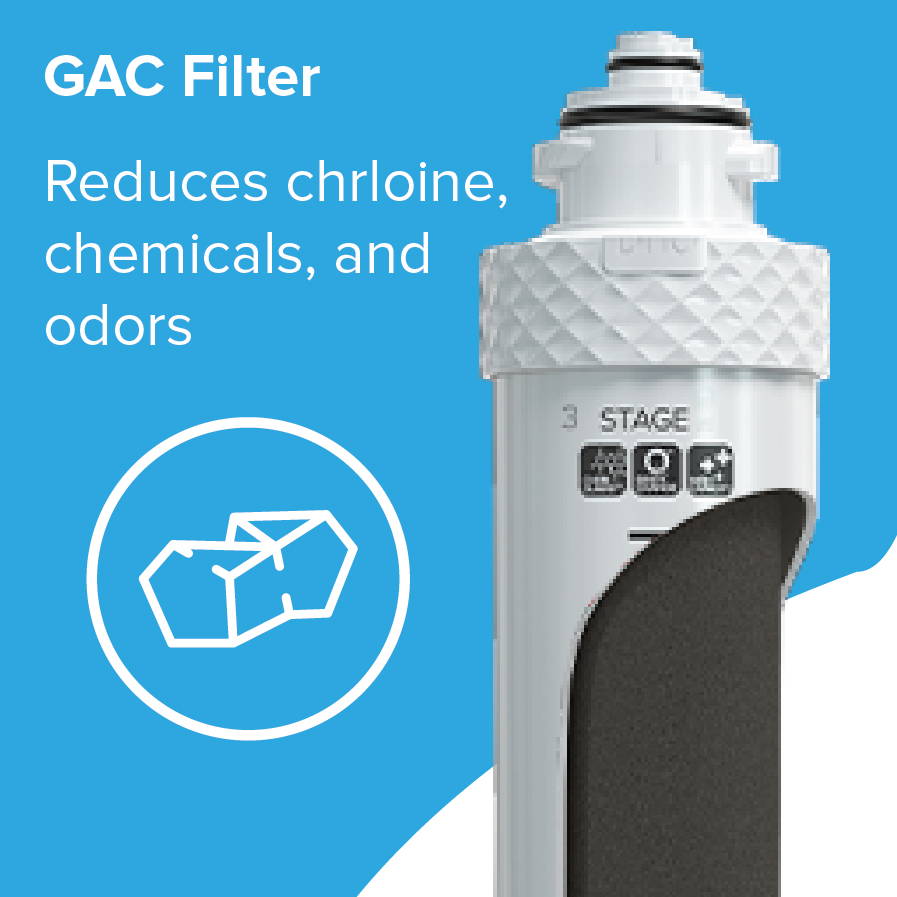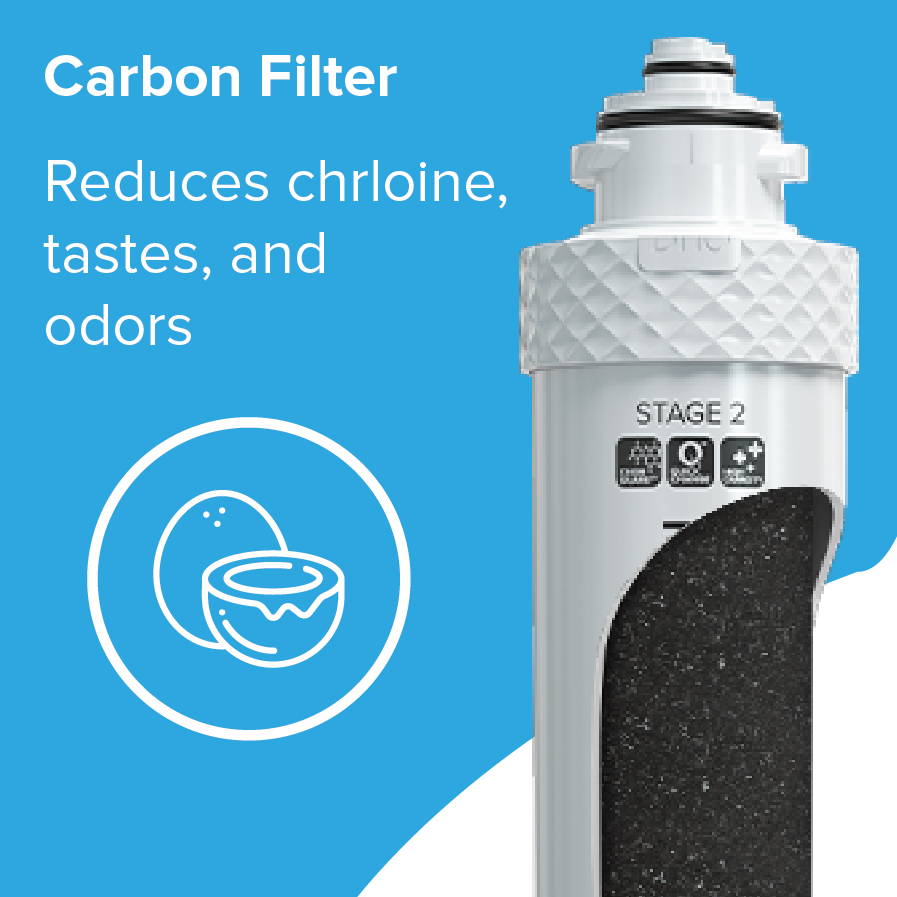 Redesigned for optimal space-saving while providing powerful convenient features! The bottled countertop water dispenser offers the most features in a compact unit. Perfect for dispensing your choice of filtered water, Brio's Countertop Water Coolers turns each hydrating experience into a luxurious one. Protect your water supply with the reliable water dispenser that has been designed to dispense hot water and cold water from premium stainless steel tanks. The countertop water cooler dispenser offers endless benefits that go far beyond refreshing hydration, from a clean and compact innovative design for simple maintenance to powerful internal components that consistently delivers hot water and cold water. The powerful water cooler purposefully features stainless steel reservoirs to harness stainless steels ability to maintain hot water and cold water at the ideal temperature for hours on end. The countertop dispenser is made with durability in mind, so heavy bottles are never an issue, as it can carry a 3- to 5-gallon jugs effortlessly. Safely store filtered water for your bottled water cooler in a trusty FDA approved water bottle.
The sturdy bottles are made with durability and sanitization in mind. Keep drinking water pure and clean with a plastic bottle that is securely sealed, keeping outside contaminants far from your water supply. Protect waters purity from microscopic impurities and dispense pure and filtered water from your Brio Bottled Water Cooler and confidently hydrate knowing that your Brio Water Dispenser and Brio Water Bottle are safely storing your favorite filtered water. Choose from a variety of bottles that best suit your bottled water cooler or your filtered water needs. Store your mineral water, spring water, distilled water and other filtered drinking water in a reliable Brio bottle. Brio bottles come in either 3- or 5-gallon bottles that have either a crown top or screw-cap top, making it the perfect water solution in any household or office.Hydrate with better water that comes from your favorite water filtration location and ensure safe storage with the mighty Brio duo, the powerful water dispenser and durable water bottle. Quality drinking water comes from only the finest water dispenser and bottles; Brio guarantees nothing less than premium quality.