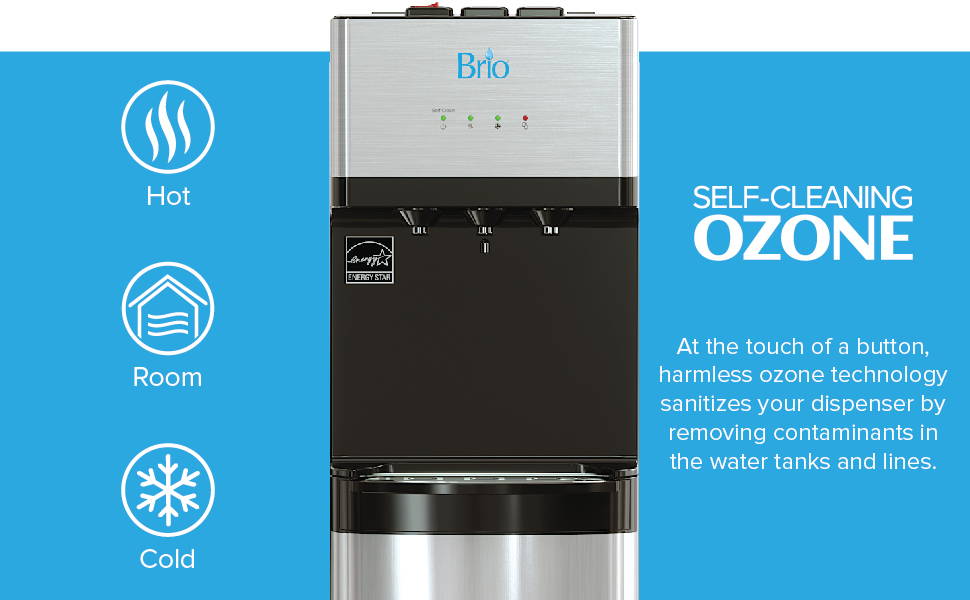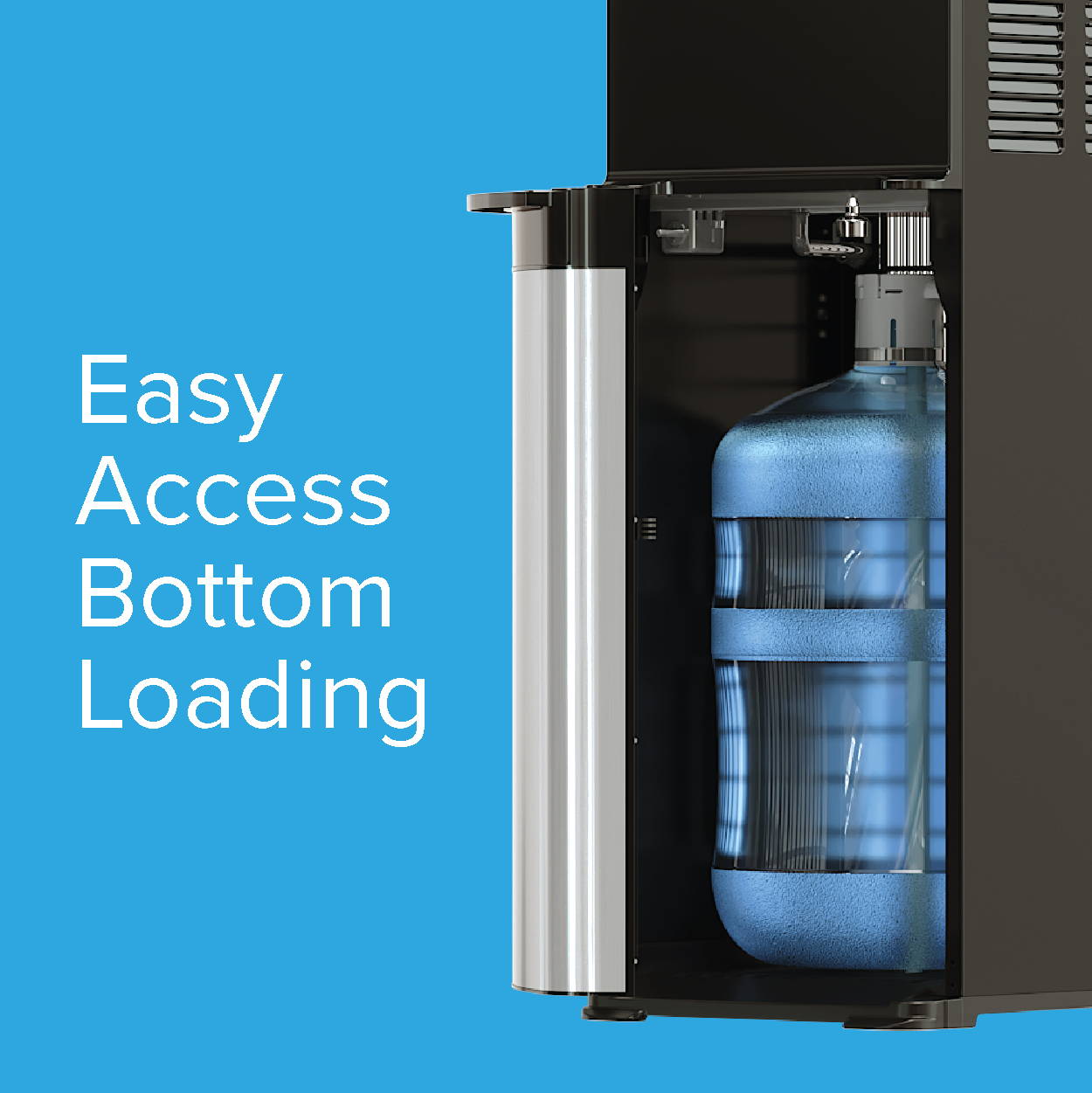 Easy Bottom Load
Never struggle to change bottles again! The easy bottom loading feature saves you from accidental spills, simply place it in the lower cabinet and connect it to the pump. The digital display will always notify you when it is time to refill, so never be left without water.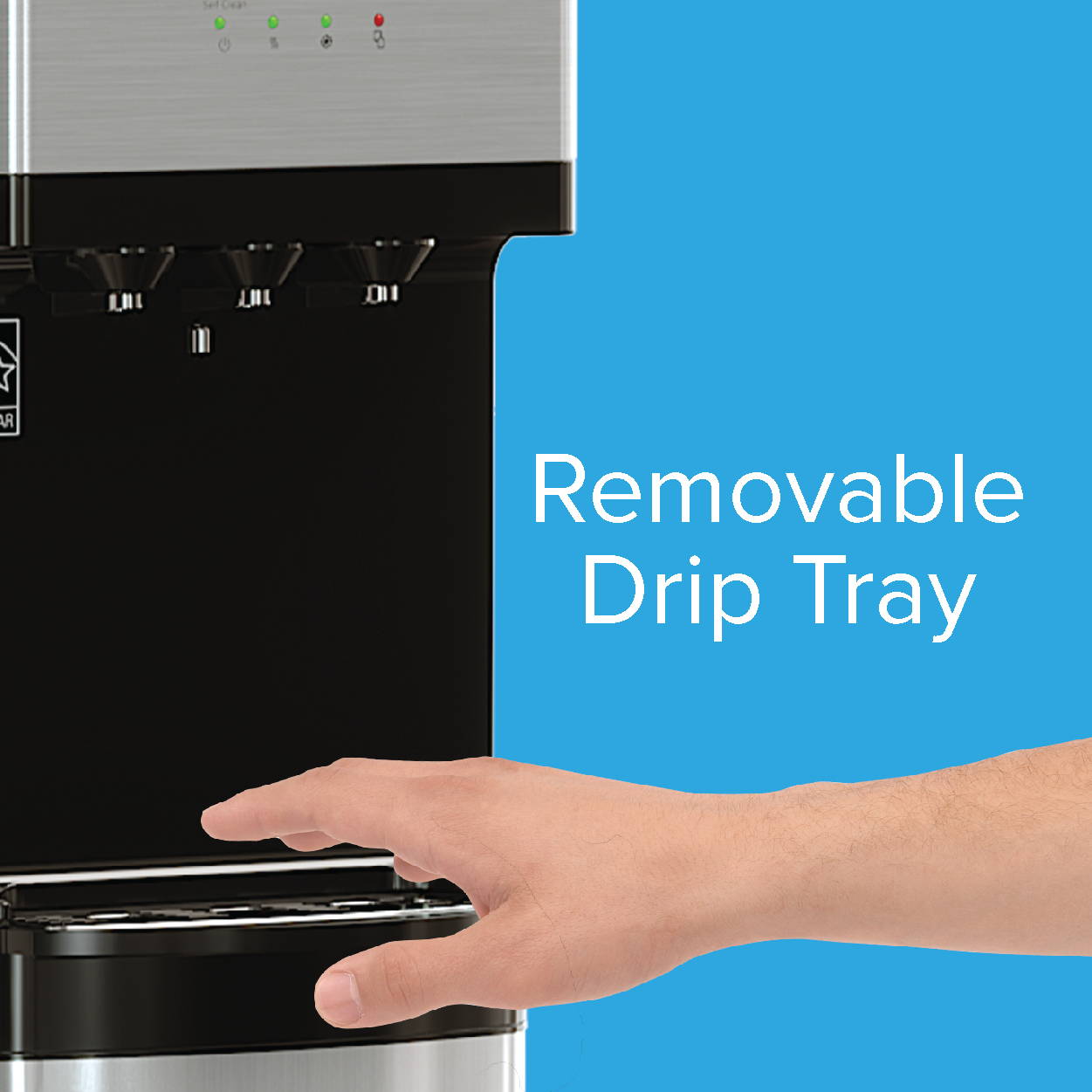 Removable Drip Tray
If you have owned a water dispenser before, you know how easy it is for the last drop of water to fall out of the tap after you've removed your glass. This Brio water cooler comes equipped with an anti-rust BPA-Free drip tray, which allows you to keep your drip tray sanitary. The removable drip tray means an easy and quick clean up!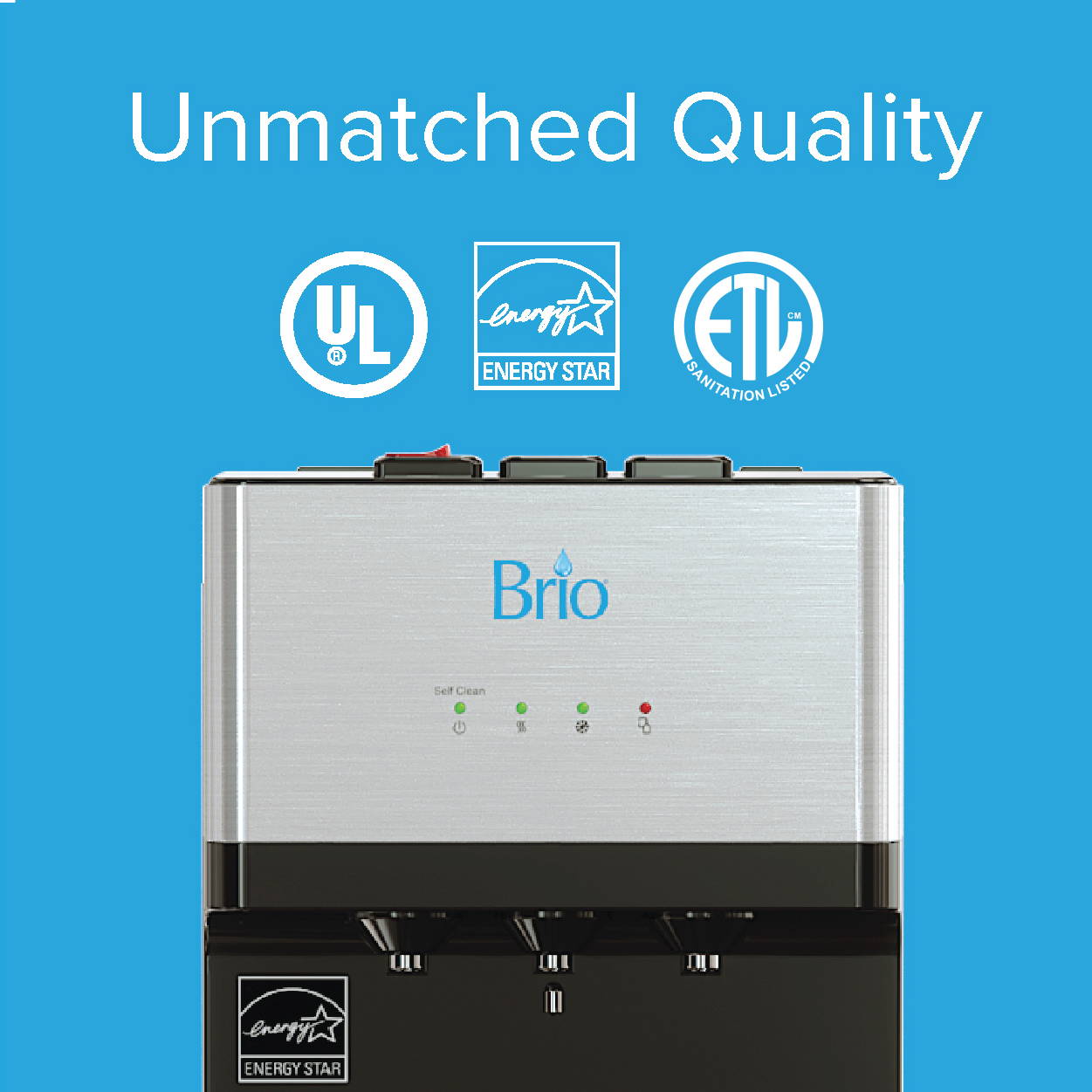 Unmatched Quality
The attractive sleek finish is made of superior quality 304 stainless steel, ensuring that you have only the finest cooler on the market. Rest assured that the self-cleaning ozone feature thoroughly cleans your cooler.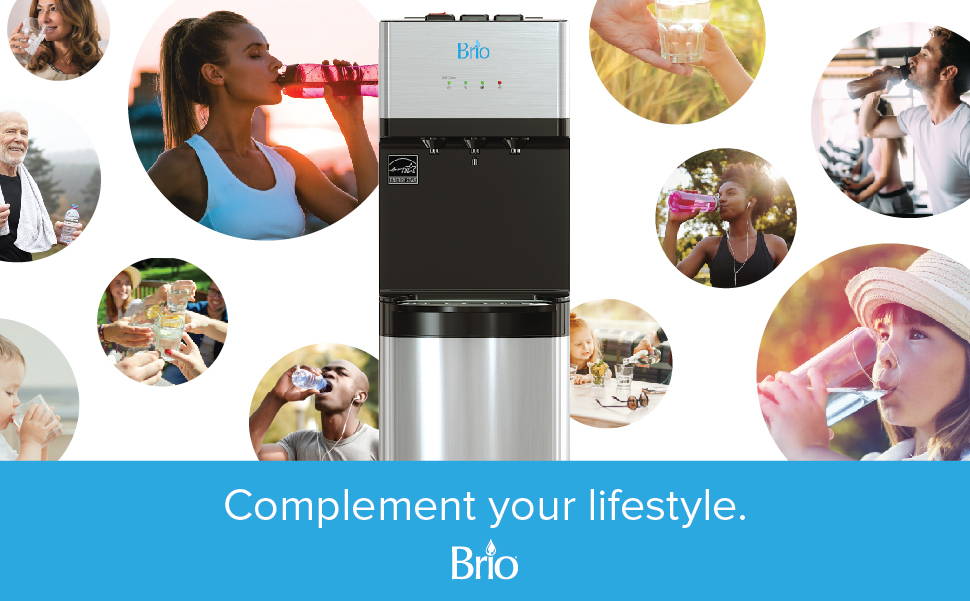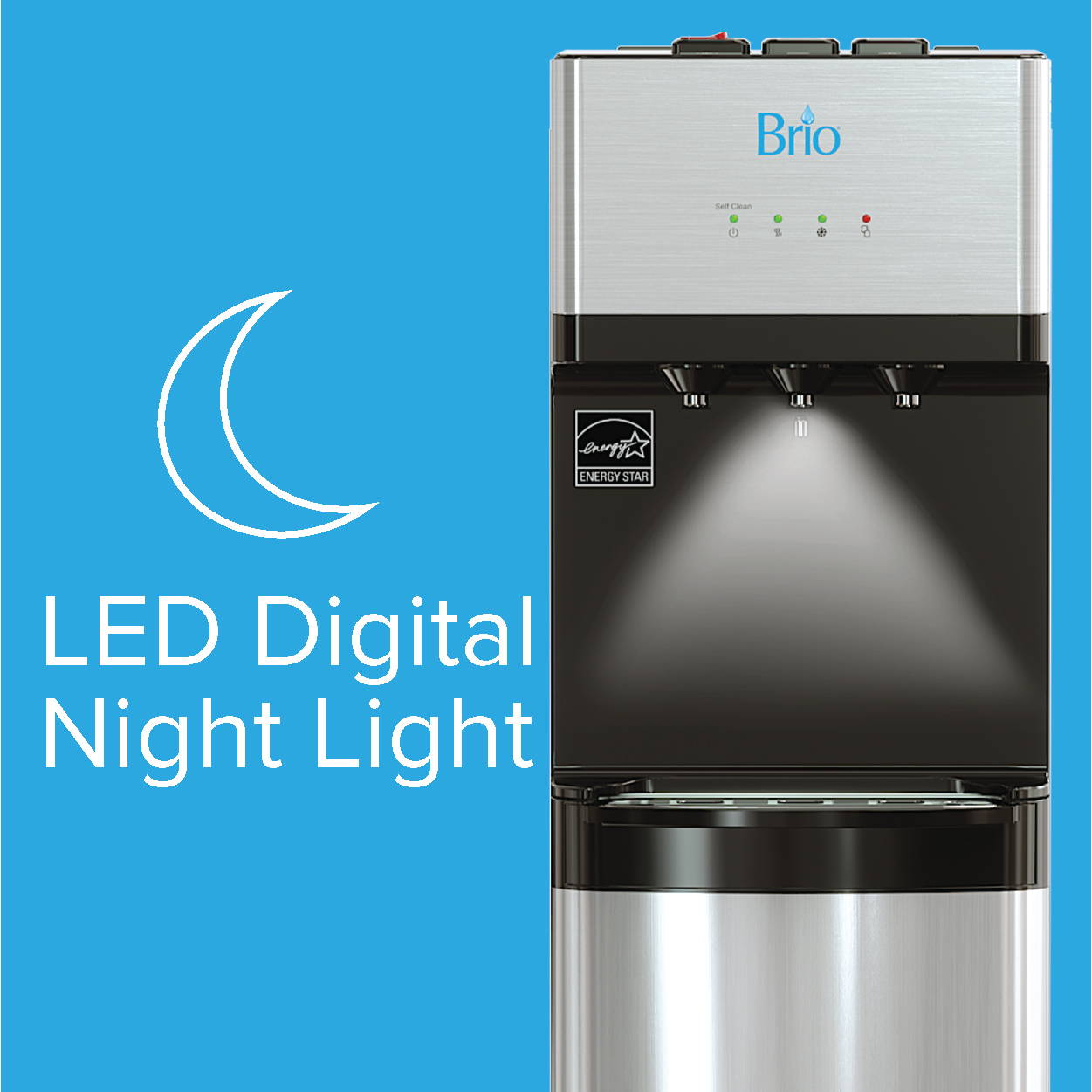 Illuminate Hydration
Never overfill or spill water when dispensing! The bright night light illuminates the dimmest environment, so refill your cup late at night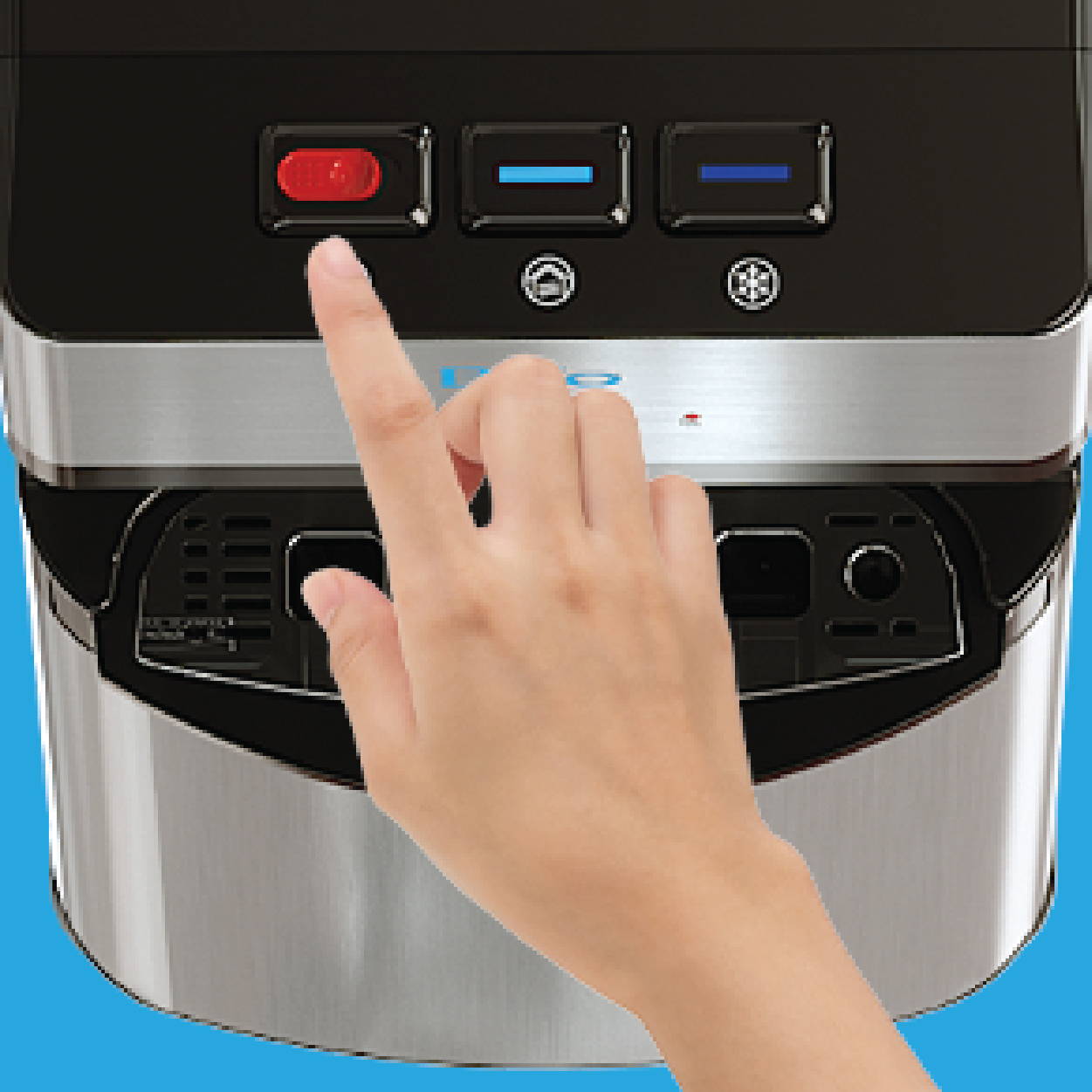 Child-Safety Lock
Brio keeps you and yours safe from any accidental pouring of hot water. The two-step dispensing prevents from any accidents from occurring, giving you peace of mind.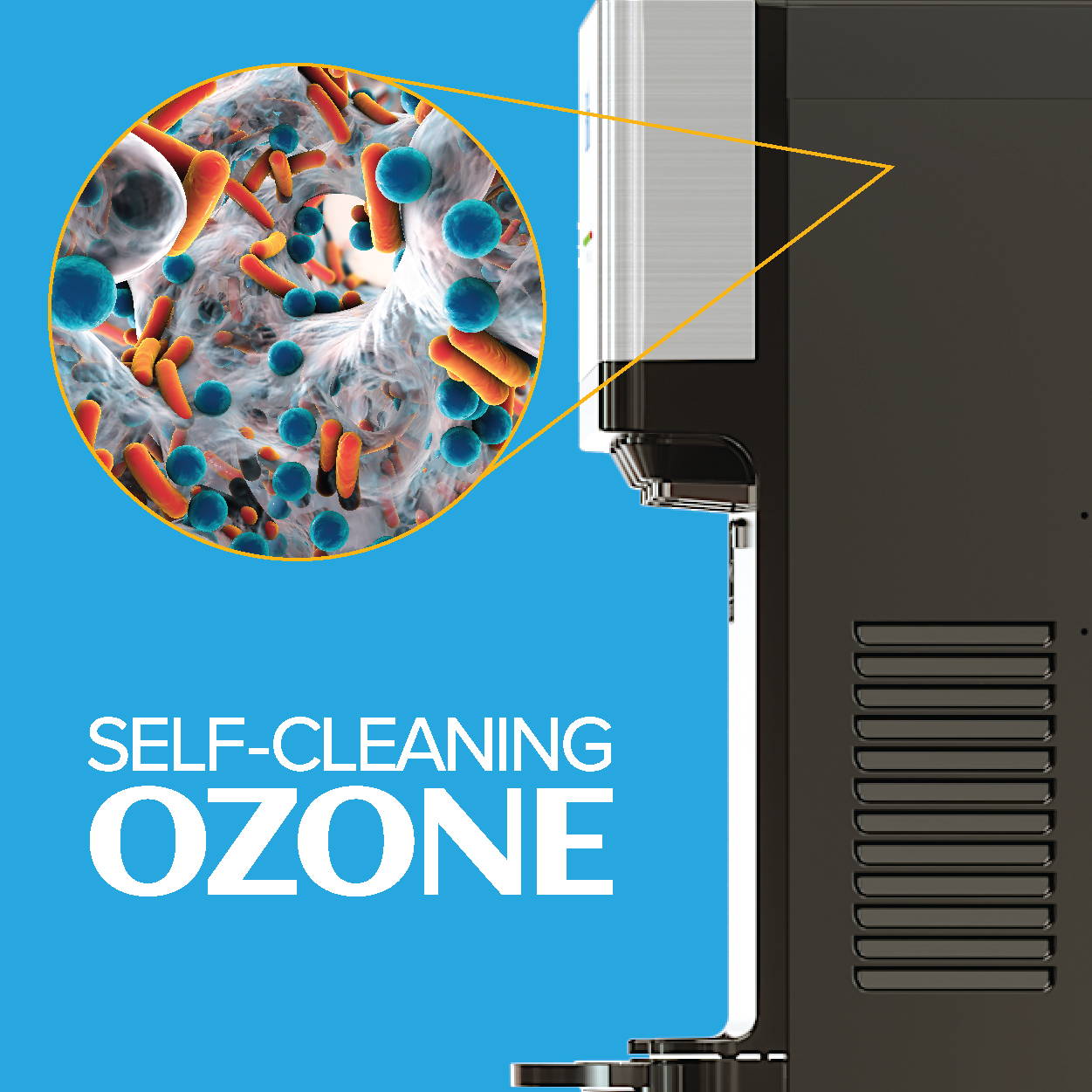 Self-Cleaning
Maintain the cleanliness of the cooler with the Ozone Self-Cleaning feature. Enjoy the ease of maintaining a clean cooler with minimal effort, simply press the button and let the unit take care of the rest.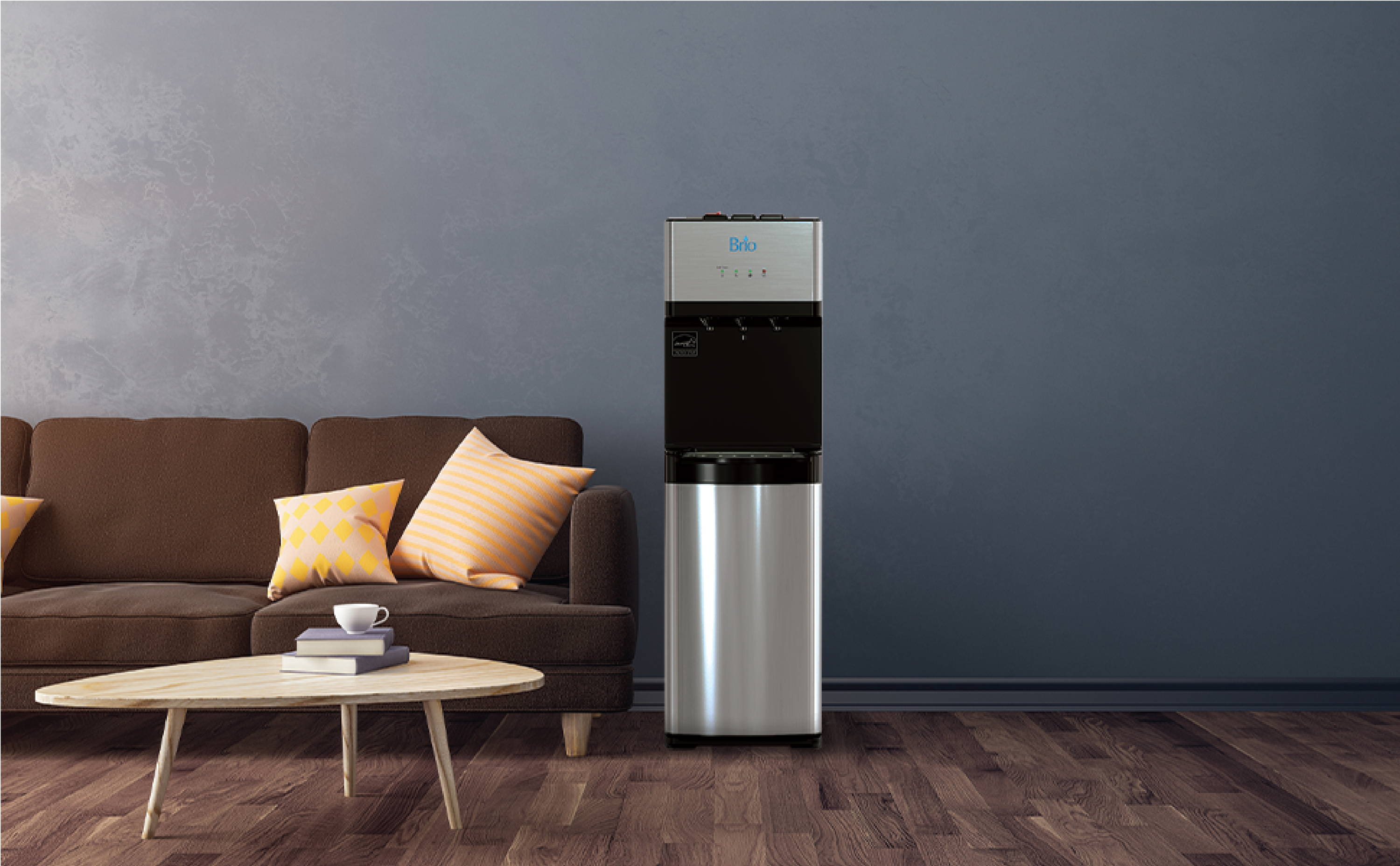 The Best Trio In Filtration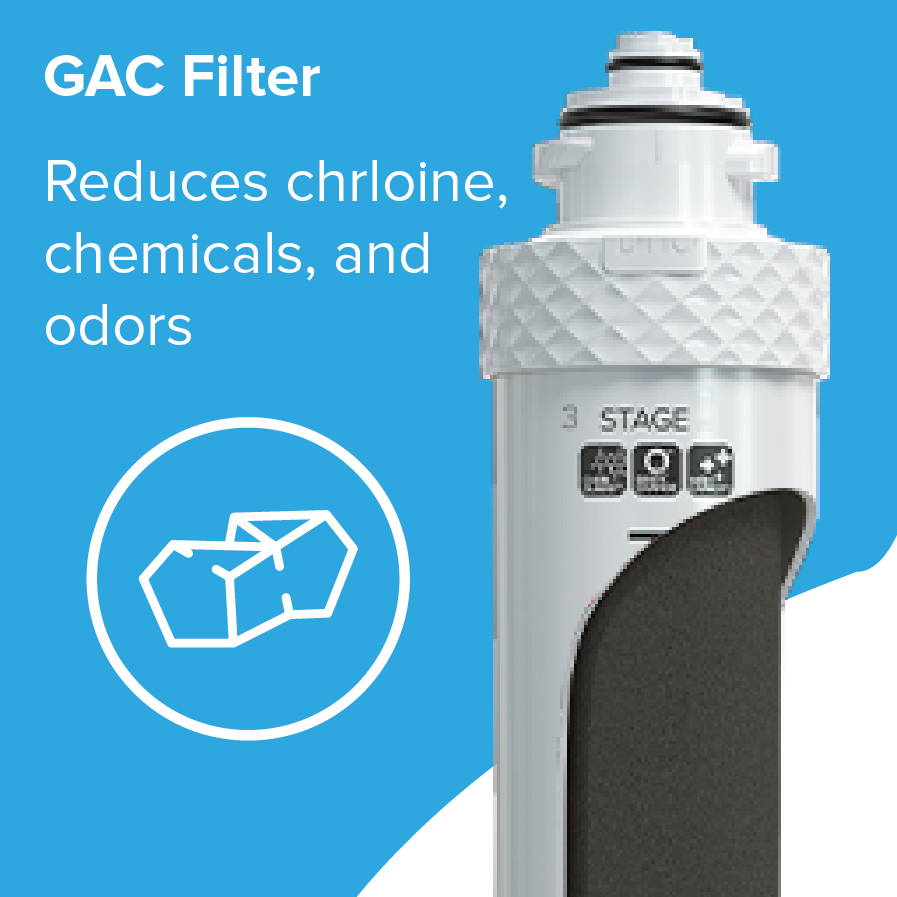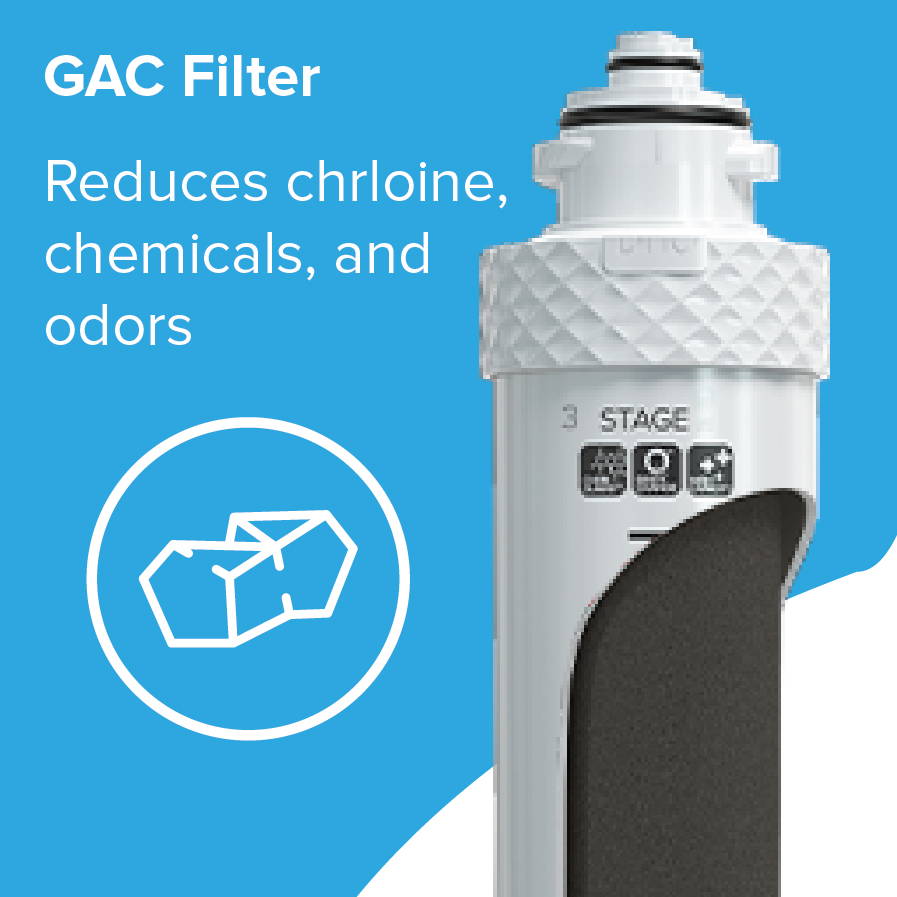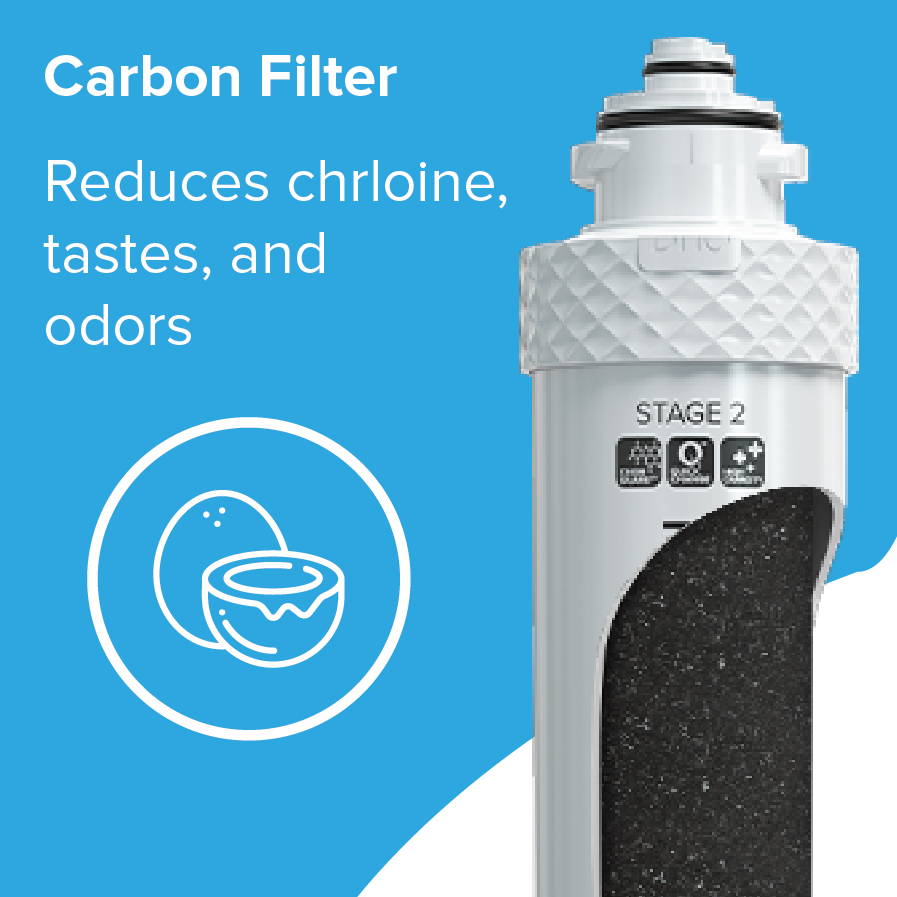 Bottom-Loading Water Cooler
Reinventing the classic top-loading water dispenser to an installation friendly bottom-loading water dispenser. The bottom loading water cooler dispenser offers various features that have been redesigned to best suit you and your lifestyle! Featuring an easy to load water bottle with a durable water pump that quickly and powerfully fills the stainless steel water reservoirs for hot water and cold water on demand. Don't struggle with a heavy water bottle, install the water jug in the cabinet below and connect the water pump for an endless flow of hot water and cold water. With countless features that make maintenance a breeze, Brio Bottom-Loading Water Coolers offer simple methods to maintain a clean and efficient water dispenser. The innovative smart technology signals when the water reservoirs need to be refilled and displays an empty bottle indicator on the display panel for simple and straight forward maintenance, so premium hydration is never out of reach! The premium stainless steel reservoirs maintain cleanliness and the perfect temperature for hot and cold water for hours on end. The bottom-loading water dispenser offers all that you need and more! Designed entirely around efficiency to provide you with simple and premium hydration.
A Brio Bottled Water Cooler goes. Safely store filtered water for your bottled water cooler in a trusty FDA approved water bottle. The sturdy bottles are made with durability and sanitation in mind. Keep drinking water pure and clean with a plastic bottle that is securely sealed, keeping outside contaminants far from your water supply. Protect waters purity from microscopic impurities and dispense pure and filtered water from your Brio Bottled Water Cooler and confidently hydrate knowing that your Brio Water Dispenser and Brio Water Bottle are safely storing your favorite filtered water. Choose from a variety of bottles that best suit your bottled water cooler or your filtered water needs. Store your mineral water, spring water, distilled water and other filtered drinking water in a reliable Brio bottle. Brio bottles come in either 3- or 5-gallon bottles that have either a crown top or screw-cap top, making it the perfect water solution in any household or office. Hydrate with better water that comes from your favorite water filtration location and ensure safe storage with the mighty Brio duo, the powerful water dispenser and durable water bottle. Quality drinking water comes from only the finest water dispenser and bottles; Brio guarantees nothing less than premium quality.